Automated Material Handling Systems
When one of our customers upgraded their plant and needed an automated material handling system for their computer chip processing line they called us. The 180 foot long construction was entirely designed and built in-house. After final testing and approval, the system was transferred and installed at the customer's facility by our experienced technicians. The comprehensive project included transfer stations, accumulating zones, a storage and retrieval module, pick and place stations, a scissor lift and turntable and a variety of robotic, pneumatic and electronic control concepts.  As impressive as this unit is it is not the largest or most complex conveyor system that we have designed and built. A much larger system has also been developed for a similar application which is unique in that our designers were able to overcome critical alignment and space restrictions and produce a more efficient manufacturing process.
Contact Us for your next Automated Material Handling Systems need.
Call Now:
800.836.7614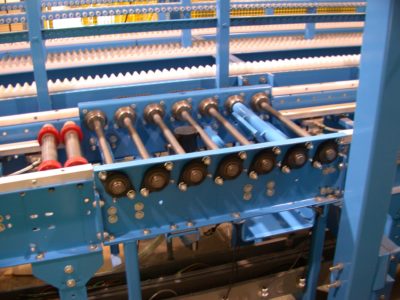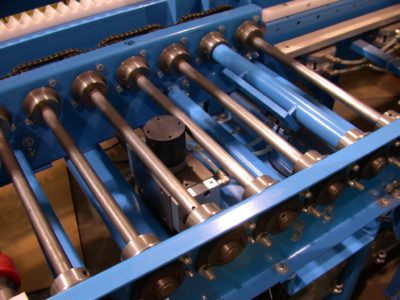 CLOSE UP OF PNEUMATICS USED TO LIFT AND ROTATE CONVEYOR