Tinsley Design & Fabricating Chocolate Melting Tanks include features that are a direct response to the requests of our customers. You can choose from stainless or mild steel and a variety of sizes to meet your individual requirements. Our water-jacketed tanks control temperature accurately. Our tanks are engineered and customized to meet our client's needs. We listen, so we can manufacture "the best."
Features:
All motor mounts and lids are stainless steel.
Tank, fittings, and agitator/mixer can be stainless steel or mild steel. Mild steel tank is powder coat painted on exterior.
UHMW Scrapers for thorough scraping of tank sides and bottom.
Water-jacketed tank has water sight glass and fittings for water in, water out, temperature probe, (2) Chocolate out and water drain.
One chocolate in located in motor mount above tank.
NPT type fittings standard.
Immersion heaters sized for fast response time.
Ball draw-off valve for 1 1/4″ or 2″ NPT opening.
Two ¾" plugged ports for optional water recirculate pump.
Hinged covers for easy access on top drive tanks.
Bottom drive tanks standard for 100 LB & 300 LB Tanks.
All electrical fittings are seal tight.
Chocolate and water temperature gauges included.
Bottom 2" center drain pipe on top drive tanks 3,000 LBs and larger.
Constructed for easy access to all parts that may require maintenance.
Eurodrive motor and gearbox (except on single phase).
Water overflow pipe vented to atmosphere.
Control panel with digital temperature control (accurate within one degree).
Other options available.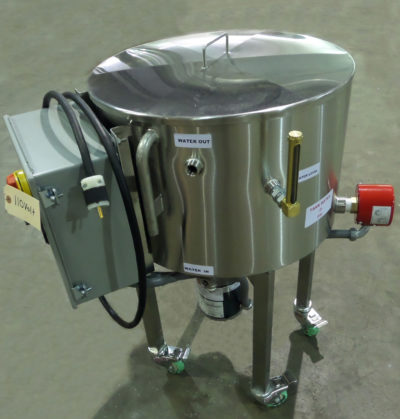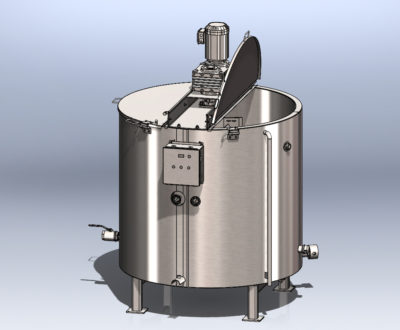 SOLIDWORKS® DRAWING OF 5,000 LB MELTING TANK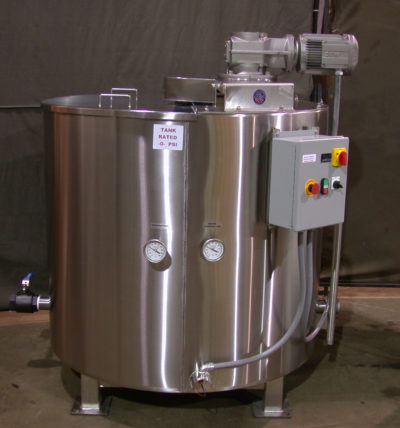 CUSTOM 2,000 LB BUTTER TANK
Tank Capacity
| Chocolate Weight | 100 | 300 | 500 | 1000 | 2000 | 3000 | 4000 | 5000 | 7500 | 10000 | 20000 |
| --- | --- | --- | --- | --- | --- | --- | --- | --- | --- | --- | --- |
| Tank Capacity (Gallons) | 10 | 30 | 50 | 100 | 200 | 300 | 400 | 500 | 750 | 1000 | 2000 |
| Drive Type | Bottom | Bottom | Top | Top | Top | Top | Top | Top | Top | Top | Top |
| Drive HP | 1/4 HP | 1 HP | 1 HP | 2 HP | 2 HP | 2 HP | 2 HP | 3 HP | 3 HP | 5 HP | 10 HP |
| Height | 32 | 41 | 64 | 64 | 86 | 77 | 90 | 92 | 92 | 100 | 133 |
| Width | 21 | 27 | 27 | 39 | 39 | 54 | 54 | 60 | 69 | 76 | 93 |
All values approximate   Custom Sizes Available Upon Request